Everyone associated with the GalxC Cooling Services Basingstoke Bison are deeply saddened by the shocking events and atrocities unfolding in Ukraine.
On the evening of the 19th March the Bison family will proudly show our support for the people of the Ukraine.
We have no doubt that the Herd family have been appalled and devastated at the scenes shown on our televisions and in the media from the Ukraine and its neighbours with the senseless invasion of their country by the Russian government and we stand with the wider sporting community in supporting the Ukrainian people.
HOW CAN WE SUPPORT:
We will be launching a one-off special jersey in the Ukrainian colours to show our support for the Ukrainian people which supporters will be able to "Own & Loan".
The jerseys will be worn on Saturday 19th March 2022 at our home game versus the Peterborough Phantoms.
We will also be offering a special range of merchandise for the game of pucks, key-rings and mugs and also taking orders for these one-off items.
At the game the evenings "Shirt Off Their Back" prize will be one of the blood jerseys, where the lucky winner will have the jersey presented on ice by the player of their choice.
These jerseys will be produced by Young Guns Sports and offered to our fans through our ever popular "Own & Loan" scheme, priced at £100.00 each with all profits after manufacturing costs being donated to the Disasters Emergency Committee Ukraine Appeal, unless we can source a local Basingstoke or Hampshire charity or organisation who need our support.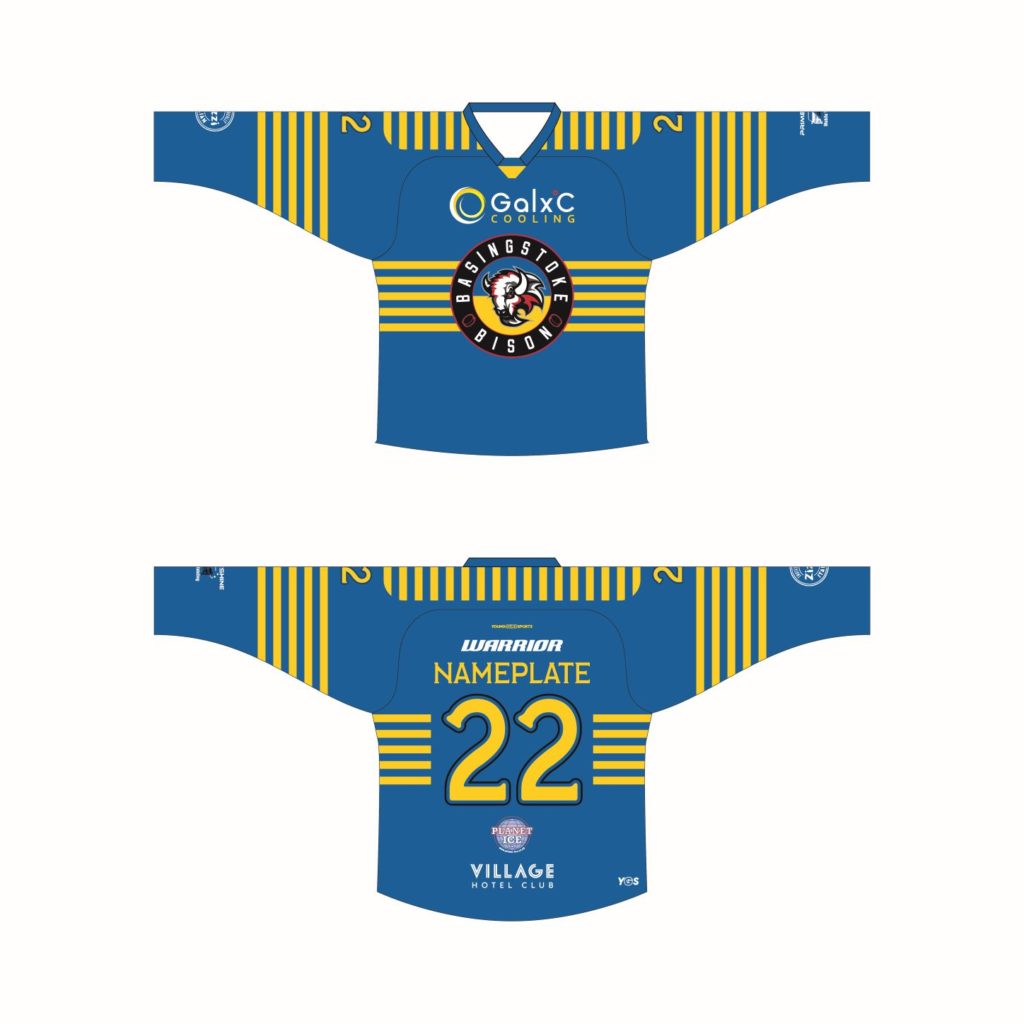 HOW TO OWN AND LOAN A JERSEY:
All jerseys will be available to Own & loan on a first come first served basis.
There will be no replicas jerseys made available.
Applications will open at 6pm tomorrow evening (Thursday 10th March 2022) when fans need to email hello@bstokebison.co.uk with the name of the player whose jersey they wish to own and loan.
*** Whilst you can send in as many emails as you wish, each email must have a unique player name in the subject bar. Any emails received that do not comply will be voided. ***
Bison's John Neville commented,
"All at the Bison are only too pleased to be able to offer support to the people of Ukraine, as a diverse and welcoming sporting community our thoughts are with all the people who are affected by the Ukrainian conflict in this frightening and uncertain time"
Keep your eyes peeled on our social feeds and website for further opportunities where fans can win one of these special jerseys – more news to follow soon.